Lift & Turns
ACCESSIBILITY FROM MULTIPLE HEIGHTS AND ANGLES
Lift and turn fixtures provide an adjustable mounting platform for fixtures and other projects. Constructed of high strength steel, the fixtures ensure rugged, dependable, and long lasting equipment.
The fixtures are operator friendly, featuring controls on both sides of the frame allowing the carriage and hub to be operated from either side without having to move away from the work piece. The mounting carriage rides on smooth rolling cam followers mated to a reinforced wear surface.
Lift and turn fixtures currently available: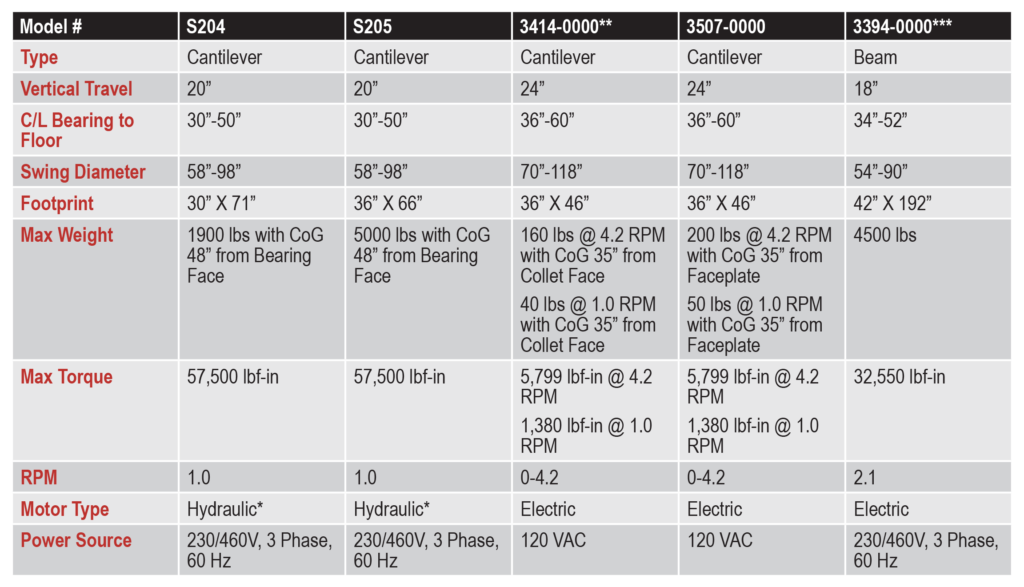 *Units powered by hydraulic motors will include a hydraulic pump.  The pump does have the capacity to power a fixture as well, if desired.  A rotary union (not included) can be mounted to the fixture and pass through the bearing if fixture plumbing is added to the system.
**Unit designed for pipe/tube welding and is supplied with a set of seven change out collets for a range of tube sizes.  50-80 PSI air connection required for this unit.
***Maximum fixture length is 140" based upon specifications listed.  Fixture length and mounting can be adjusted to meet your application.